Written by Christina Nicholls.
Hiring has changed… Gone are the days where recruiting staff was a one-way street. In this candidate driven market, potential employees have more influence and bargaining power and are increasingly taking company benefits into account when making a decision about their future employer. Without an attractive package in place, growing numbers of candidates will be less enthused at the idea of an interview and quickly move onto their next prospect.
Senior decision makers are starting to realise this and we are often asked about the local market and company benefits being offered across Oxfordshire and Warwickshire.
'What benefits do other companies offer?
'How can we improve our current offering?'
'Is our benefits package competitive?'
Not all companies have the budget or operational luxury of being able to offer a gilt-edged corporate benefits package, so what can the SME do to compete?
We've compiled a short list below of imaginative ideas that some employers have already implemented;
1) Free Food
 Everyone needs to eat. You may not be able to install a fully functioning cafeteria, but you can provide snacks and drinks for your team to keep them going throughout the day. Supplying free healthy snacks helps to encourage a health-conscious working environment, which is proven to help with making people happier, more productive and less prone to sickness. However, the occasional unhealthy treat can work wonders too. Here at Plus One Personnel we are big fans of Pizza Fridays! It's a great opportunity for us all to get together, have lunch as a team and argue about whether pineapple belongs on a pizza (It does!).
2) Team Socials
 Planning and setting dates aside for social get togethers / drinks is hugely important. Team socials help to build a collaborative and team atmosphere and are proven to increase communication and morale. It is important to provide plenty of notice to be fully inclusive as employees with family commitments aren't always able to attend the spontaneous 5.30pm call to the pub on a Friday, and the gym bods might not want to give up their mandatory 'leg day'. By choosing a date, such as the last Friday of every quarter, you will have more of an opportunity to have as many of the team together a possible and foster a collaborative team get-together.
3) Extra Holiday for Birthdays
 Increasing your holiday allowance by 5 days or offering unlimited/flexi-holidays may not be operationally possible, but offering employees that opportunity to have an extra day off on their birthday, can be an easier and more cost-effective way to offer an additional holiday day and maintain high morale.
4) Stop the Clock / Summer Hours
 It's an hour before finish on Friday, so why not offer everyone a beer or glass of wine. It's a great way to end the week and will give employees a chance to catch up and debrief after a hectic week. Or, why not operate a summer hours policy? A sunny day is a rare commodity in the UK, so every Friday, during the summer months, let employees leave an hour early. The benefits of increased job satisfaction and happy work force may well compensate for the lost hour.
 5) Mindfulness and Mental Health
 We think that it's great that more companies are becoming aware of mindfulness and mental health. Acknowledging this as a business and promoting an understanding and supportive work environment can only be a good thing. Why not offer your team a subscription to one of the many mindfulness or meditation apps, or a subscription service that offers counselling sessions to staff. Even a service that offers neck and shoulder massages for people whilst sat at their desks can be beneficial, as a quick ten-minute time out can increase productivity that day.
6) Dry Cleaning / Laundry Service
 Collaborate with a local business to offer a dry-cleaning service to your staff. Having your business wear picked up and dropped off will save employees sizeable amounts of time and could prove highly valuable to employees at a small cost to the business. It could also have the added benefit of making sure that everyone is looking spic and span.
7) Bring Your Pets to Work Days
 There have been many studies done that would suggest that pets in the workplace can have a calming effect on a team and also be positive for morale. Whilst I'm not suggesting that you bring your pet snake/tarantula to work with you for obvious reasons, a pets in the workplace policy could save employees money (dogsitters are not cheap!) and allow employees to work longer hours if needed.
They promote positive social interactions and can relieve stress, which can only be a good thing.
Plus, pets are cute. In the interest of de-stressing, we thought you might like to see the Plus One Personnel stress relievers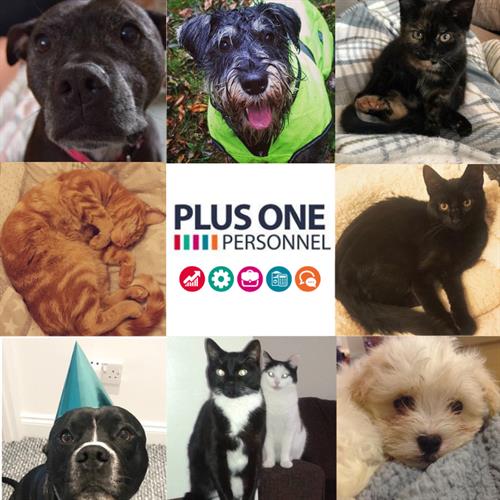 There, don't you feel better already?